Extreme Photography
has photographed thousands of Valentine dances over the past two decades for parks and recreation departments, YMCA's churches and other private facilities. We offer our clients a turn-key photography experience that is customized to fit your event needs. Whether offering your guests a 5"x7" commemorative photograph with their dance ticket or, you want your guests to have the option to capture a formal photograph from a professional photographer with prints and packages available to purchase. We have you covered.
Depending on the size of your dance we will provide an adequate number of photography stations so that your guests are not spending their dance time waiting in line. If providing photography services to your guests on a speculative basis, then our company will provide all the necessary staff to manage a sales table where we accept cash and all major credit cards for photos purchased.
We provide custom themed backgrounds and border overlays that commemorate the event and best of all, your event photos are printed on-site with the highest quality photographic printers on the market. This means your guests leave your event with their commemorative photographs in hand!!!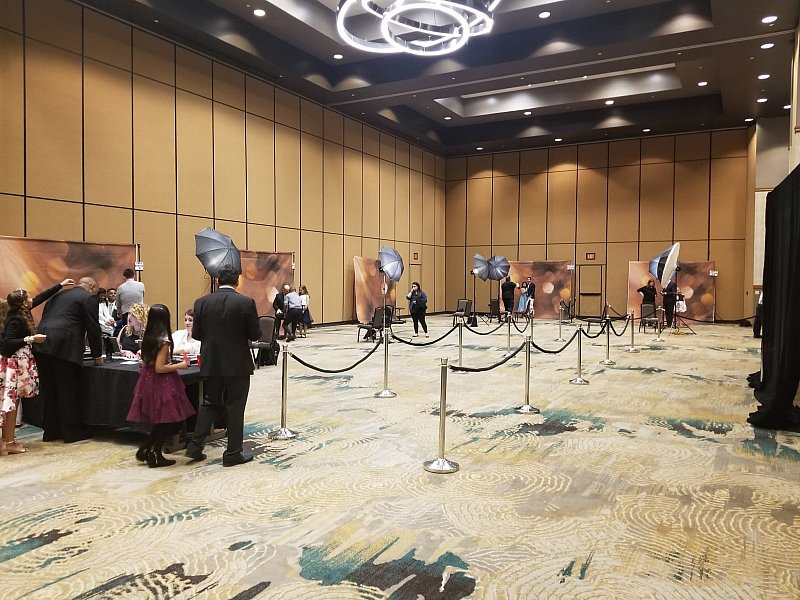 10 Reasons to Take Your Daughter to a Father Daughter Dance
Attending a Daddy Daughter Dance, is a way for dads and their little girls to come together for a fancy evening of dining and dancing. Open doors, pulled out chairs, asked her questions and offer kind words about her external and internal beauty all night. Then ask her "How have you felt during our date tonight? I don't want you to ever expect anything less from a boy you're dating."
Here are 10 great reasons you should consider taking your daughter to a one of these dances...
She wants to hang out with you.

Reason number one will not always be true.

You'll make memories both of you will always have.

There will probably be pizza.

Your daughter will learn how she deserves to be treated when she is finally old enough to date.

She still thinks you are her hero. And she needs a hero.

You will feel like a hero.

You might actually have fun.

It costs MUCH less than taking your wife out.


You love your little girl and want her to love herself just as much.
Valentine Dance Sample Images
| | |
| --- | --- |
| Monday | 9:00AM - 5:00PM |
| Tuesday | 9:00AM - 5:00PM |
| Wednesday | 9:00AM - 5:00PM |
| Thursday | 9:00AM - 5:00PM |
| Friday | 9:00AM - 5:00PM |
| Saturday | 9:00AM - 5:00PM |
| Sunday | CLOSED |

6100 Stephenson Levy Road
Fort Worth, Texas 76140


(817) 561-7775